March 7 – After attending the 2020 Grand Rapids Neighborhood Summit, we have acquired new information on the Human Rights Ordinance and its progress. Citizens of Grand Rapids of any protected class who feel they have been discriminated against in housing, employment, public accommodation, contracting, or in bias crime reporting can fill out a report with the city Office of Equity and Engagement. Anything the city cannot help you with directly, they will refer you to the proper agency that can help with your claim.
February 2020 – Intern Katlyn Johns presented at the board meeting on housing and health disparities. The full paper on health can be found here. The summary brochure on housing can be found here, and the one on health can be found here.
January 2020 – We began research on the education portion of our racial equity research. More information can be found here once research comes to completion.
October 30th – In relation to racial equity in Grand Rapids, the following is a Public Service Announcement for the residents of Belknap Lookout in relation to the City's new Human Rights Ordinance.
The Human Rights Ordinance is a revision to Title IX of Grand Rapids's Code of Ordinances. The ordinance goes into effect December 1, 2019 and it will be a criminal misdemeanor to call 911 on protected classes who have not done anything wrong. The ordinance comes along after concerns that residents are placing calls in to police on the basis of biases, such as racism, rather than for an actual crime being committed. The ordinance aims to protect everyone from any form of discrimination. Please do not refrain from calling in a crime or calling 911 in an emergency, but please check your personal biases before calling. 
October 16th – We began the health portion of our power analysis (see below).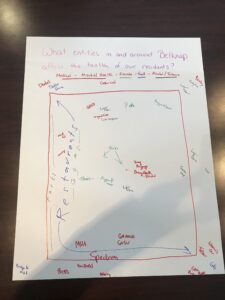 October 2nd – A review of research related to racial disparities in renter and home ownership was done in relation to Belknap Lookout. The research can be found here. The next topic of research will move to racial disparities in health.
August 19th – We're very excited to be able to move much of the work of this committee into our new intern's assignment. Since we've had low in person attendance, stay tuned for a new group where we can discuss these issues online at a pace that works for everyone.
Edit: The new online forum for Community Relations and Racial Equity Committee discussions is on Facebook.
August 14th – Today's meeting will be a general catch up session. Looking forward to reviewing our accomplishments and determining what comes next!
June 26th – Due to conflicts etc, Tonight's Racial Equity Committee meeting will change location back to 700 Clancy Ave NE and consist of watching a Human Rights Cities webinar. We will resume work on the same pattern as planned, repeating the housing work session at our first July meeting.
May 22nd – We completed the housing portion of our power analysis (first three photos) as well as an overview of what the power analysis is (fourth photo).
April 25th – We discussed the City's proposed Human Rights Ordinance and noted we needed to add housing to our list of power analysis areas. As we recapped that concept, disparate impact and disproportionality surfaced as the actual impact while the result can become a human rights report. Pittsburgh recently published 80 equity indicators which were grouped into 4 of the categories we intend to consider. We talked a bit about what's been going on in the south side of town, food deserts, etc. Elianna will email the committee to identify the top 3 categories to tackle first (also brainstorming by email) as well as to address community relations tasks. Our next in-person meeting will be May 22.
April 3rd – The first CRRE committee meeting on April 3rd introduced a variety of concepts, including changing systems that hold power to create equitable outcomes, service providers acting as gatekeepers, disaggregating data to show disproportionate impact (examples of low business ownership and high suspensions and expulsions among communities of color), and organizations' propensity focus on optics as opposed to change. We outlined 8 areas of impact to discuss in our power analysis: health, education, criminal justice, environment, health/social services, economics, culture/religion, and communication. Raven from GRAAHI noted they have a health equity index and will be doing in person and online surveys before forming a health workgroup. We listed categories of organization that impact communities generally and named some specific to Belknap. We noted data sources, strategies to pursue to seek influence, local geographic divides, and the importance of making our findings accessible and replicable with a dashboard.